Pediatric Chiropractic Care
Pediatric Chiropractic Care
Written By Marshall Family Chiropractic on March 27, 2020
---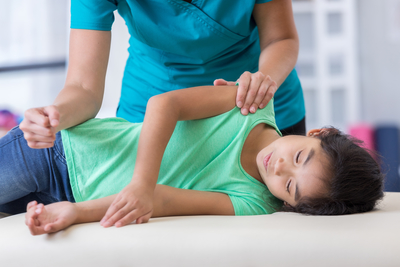 Adults and teens alike have been turning to chiropractic care to help them live their best lives. However, when it comes to pediatric chiropractic care, many parents find themselves asking whether it's a safe practice for their infants. Are infant adjustments safe? Do they provide the same benefits to the infant as they do older children and adults?
What is Involved in Pediatric Chiropractic Care and Infant Adjustments?
What makes most parents nervous when it comes to pediatric chiropractic care and infant adjustments is the fact that an adult and even older child's body is so drastically different from that of an infant. They are so much more fragile and are still in the very beginning stages of their growth and development.
A Doctor of Chiropractic understands this, and they understand that babies do not come into their office for the same reasons as older children and adults. Instead of complaining of back and neck problems, most infant adjustments are sought out to deal with nursing dysfunctions, colic, and sleep issues. However, that doesn't mean that an infant isn't dealing with chronic pain due to misalignment.
In most cases, infant adjustments focus on the use of upper cervical manipulation. This focuses on the back of the skull and the first vertebra in the neck. Focusing on this area helps to mobilize the body's lymph fluid and promote proper drainage, helping to keep your little one happy and healthy. These adjustments can help with several conditions, including:
Fewer ear infections
Shortened illness duration
A boost in the child's immune system
Alleviate colic
Alleviate digestive issues, including reflux issues
Improve breastfeeding and more
Pediatric Chiropractic Care at Marshall Family Chiropractic
It's very normal for parents to feel a little nervous when it comes to infant adjustments. Dr. Marshall understands and is ready to ease your concerns. He's not only had each of his own children take part in pediatric chiropractic care but has also completed a certification in the Webster Technique and the CACCP with the International Chiropractic Pediatric Association.
Your children are in safe hands with Dr. Marshall and the team at Marshall Family Chiropractic. Not quite sure? Then schedule a consultation today and we'll walk you through everything you need to know.

Posted In: Chiropractic Pediatric Chiropractic